Tony Hawk
Legendary Skateboarder & Entrepreneur
Founder, The Skatepark Project (formerly the Tony Hawk Foundation)
The most recognized action sports figure in the world, Tony Hawk was just nine-years old when his brother gave him his first skateboard. By fourteen he'd turned pro, and by sixteen he was widely considered the best skateboarder on earth. In 1999, he became the first skater to ever complete a 900, and shortly thereafter, launched Tony Hawk's Pro Skater, his now billion-dollar video game franchise. The Hawk empire includes Birdhouse Skateboards, Hawk Clothing, and the Tony Hawk Signature Series products, as well as his production company, 900 Films.
Tony authored a New York Times bestseller, the bio HAWK—Occupation: Skateboarder, and his book How Did I Get Here? The Ascent of an Unlikely CEO, covers the business side of his career. In 2022, a biographical documentary film titled "Tony Hawk: Until the Wheels Fall Off" by award-winning director Sam Jones debuted on HBO, giving an in-depth look at Tony's legendary career and personal life. In 2002, Tony founded The Skatepark Project (formerly the Tony Hawk Foundation), which has given away over $10 million to help fund over 650 public skatepark projects throughout the United States that serve over six million visitors a year.
Tony will be at EO XCentric on Tuesday, September 20, for an in-depth, personal interview by fellow EO member, Todd Palmer. Designed with a Forum Confidential mindset, you'll hear about his groundbreaking career, how failing is a critical path to success, his charitable foundation and so much more. You don't want to miss this exclusive conversation that will be like no other.
Christina Harbridge
Keynote Speaker
Christina Harbridge, Founder and CEO of allegory, inc, is a behaviorist who trains and coaches individuals, teams and large groups to understand and leverage their own personal operating system when dealing with others who may or may not be rational.
Christina has been a member of the Entrepreneur's Organization for twenty years and once served as President for the San Francisco chapter.
Not only is Christina a business owner and past EO president, she has also co-authored software, built and sold a successful finance industry company, participated as a NASA test subject and collaborated to design and weld several large-scale metal sculptures.
She has served her community on the founding boards of The Bay Lights and Emerge America. Her story is covered in more detail in Simon Sinek's book "Start With Why," Mike Maddock's "Plan D," and Maria Ross' "Empathy Edge."
Along with being featured in several books, she is also the author of Swayed: How to Communicate for Impact, which reached number one on Amazon's 'Conflict' category list.
To learn more about Christina Harbridge and how brightly she shines her light on the world, visit her website: https://www.allegoryinc.com/team/christina-harbridge/
Momentous Storytelling
Storytelling That Builds Momentum
How do we move people from merely compliant to fully committed? Storytelling is a feeling that turns a moment into a movement. In this fully interactive keynote, you won't just sit and listen: We'll practice ways to authentically tap into a current much stronger than facts or feelings. There will be a twist to common thinking about personal narratives, and practical application to leading people.
"I laughed and I cried in Christina's 45-minute session. Everyone was riveted and wanted more." – Jennifer Trowbridge, Finance Chair, EO XCentric, Owner, Red Tree
"Everyone there would have spent four hours more with her and her talk." – Becky Feinberg Galvez, Revenue Chair, EO XCentric, Owner, Candor Threads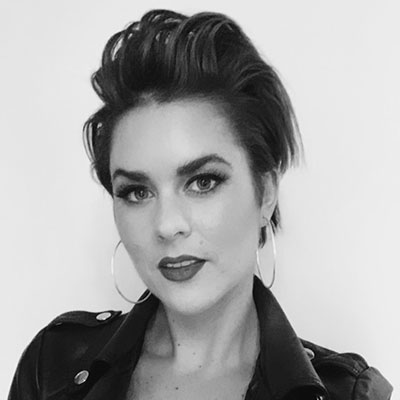 Allie Martin
Emcee
Allie Martin is a Cincinnati based multimedia producer and on-air personality that believes stories are the root of human experience.
She currently is WEBN's morning radio co-host on 'The KiddChris Show' and a frequent voice on 700WLW, also known as The Big One. Previously, Allie reported and hosted for WCPO's 'Cincy Lifestyle', along with directed events for Cincinnati CityBeat and video produced for Curiosity Advertising. In her down time, she produced and hosted 'When Pigs Fly', a podcast uncovering Cincinnati's entrepreneurship and startup culture.
Her unconventional path in media has pushed her to be a better storyteller, with the goal of giving others a voice.
Jim Obergefell
Keynote Speaker
A self-described purposeful activist, Jim Obergefell is dedicated to the fight for equality for the LGBTQ community, as well as civil rights for all. Co-author of the book Love Wins: The Lovers and Lawyers Who Fought the Landmark Case for Marriage Equality, Jim enjoys empowering audiences to always stand by their beliefs. Through his compelling tale of love, personal loss, dedication and commitment, Jim proves that in the end, love always wins.
Jay Levine & Rob Schustack
Music Breakout
Songwriting is one of the oldest and most expressive forms of storytelling. Together, Jay Levine and Rob Schustack give you an inside look into the mechanics of a professional writing session. Walk away with a new understanding of what the creative process can bring to your quality of life and how it can enhance the effectiveness of your most valued interpersonal relationships.
Jay Levine is a Sony published, Juno award winning, triple platinum selling artist and producer. Rob Schustack is a Grammy-voting, 20+ year veteran of the music industry. Collectively, they worked with artists like Ceelo Green, FeFe Dobson, Cheyenne Jackson, Boyz II Men, Def Leppard, and The Wu-Tang Clan.
This dynamic duo has created various pieces of music and sonic branding initiatives for companies like Febreze, Google, Chase, Disney, American Express, Nobu and the Four Seasons. Jay and Rob both live in New York (Brooklyn and Westchester respectively), and each have 2 young sons who have a knack for finding their way into the studio.
Website: www.oozehouseofmusic.com
Dr. Rick Stevenson
Workshop and Keynote Speaker
Listener, philosopher and filmmaker, Dr. Rick Stevenson is an award-winning movie director/producer/writer and a doctor of philosophy hailing from Oxford University. Not only has he made twelve feature films and clocked over 100 hours of television, Rick has also filmed over 6,300 interviews with kids and teens across six continents as part of his renowned longitudinal 5000 Days Project using his StoryQ method of inquiry dedicated to raising emotional intelligence. Splitting his time between Seattle, Washington and Vancouver, British Columbia, Rick can be found spending his days as an author, public speaker, husband and father of four children.
---
Ami Kassar
Breakout Speaker
Ami Kassar, founder and CEO of MultiFunding and author of The Growth Dilemma, has earned a national reputation as a thought leader in business finance.
An in-demand speaker and trusted advisor to growth-focused business leaders, Ami has helped thousands of business owners achieve ambitious growth goals through creative and personalized funding solutions. His work has helped create tens of thousands of jobs.
For more than 20 years, Ami has challenged executives to think differently about how they capitalize growth. Regularly featured in national media including The New York Times, Huffington Post, The Wall Street Journal, Entrepreneur, Forbes and Fox Business News, Ami also writes a weekly column for Inc. Magazine. He has advised the White House, the Federal Reserve Bank and the Treasury Department oncredit markets.
Ami regularly speaks at corporate, academic and industry events on topics including entrepreneurship and access to capital. Thought-provoking, highly interactive and based on real-time updates to funding options, his presentations address the cash-flow dilemmas entrepreneurs face on a daily basis.
Prior to founding MultiFunding, Ami spent a decade in various senior roles at Advanta Corporation, one of the nation's largest issuers of credit cards to small business owners. He served as chief innovation officer and developed innovative approaches for this specific market. In that role, Ami founded ideablob, one of the nation's leading online, small business communities. He also hosted nationwide Bloblive events where entrepreneurs shared and debated their ideas. Additionally, Ami developed Biz Equity, an initiative that helps small business owners develop future valuations.
Ami's research reports have played critical roles in the national debate regarding SBAlending. He also developed Banking Grades, now powered by Entrepreneur Media—a free tool that helps discover which banks are currently offering small businesses loans.
Nationally recognized for his innovative approach to lending, Ami received the Small Business Influencer Award in 2013, 2014 and 2015, as well as the Small Business Advocate Award in 2012. He earned his MBA from the University of Southern California and graduated with a Bachelor of Arts in American Studies from Brandeis University. Ami currently lives in the suburbs of Philadelphia with his wife, two children and his Corgi-Spaniel.
---
Eric Keiles
Breakout Speaker
Founder and Chief Marketing Officer, Square 2 Marketing
Co-Author, Smash The Funnel, Reality Marketing Revolution and Fire Your Sales Team Today
Eric Keiles is a leading sales and marketing strategist focused on pioneering a new marketing methodology. Eric, along with his business partner Mike Lieberman, coined the concept, Reality Marketing™ to describe how businesses can utilize cost effective inbound marketing tactics to achieve dramatic revenue growth. They are leading the revolution in how entrepreneurs change the way they think about marketing their companies. Marketing Sherpa has called the duo "original and contrarian marketers".
Their popular first book, Reality Marketing Revolution is a thesis on the changing world of inbound marketing and the dramatic shift in buyer behavior. It introduces concepts like "The Red & Blue Test", "Being Remarkable" and the "Cup of Coffee Challenge". Verne Harnish, The "Growth Guy", named the book, the "best how-to marketing book ever". Their second book, Fire Your Sales Team Today, is upsetting the traditional sales department by demonstrating through many real life examples how effective marketing makes the "traditional sales guy" obsolete. It outlines a complete inbound sales process, too.
Eric is also the editor of a weekly e-newsletter reaching almost 20,000 business owners and entrepreneurs focusing on this topic. Eric is also the founder and Chief Marketing Officer of Square 2 Marketing. Square 2 Marketing was named the "Inbound Agency of the Year" by HubSpot in 2013 and 2015.
A natural entrepreneur himself, Eric has founded and grown eight (8) companies since 1997. Prior to founding Square 2 Marketing, Eric created The Stitches Catalog and The Logo Workshop, two national graphic design and promotional products companies. He is a former franchisee of a national franchise and currently operates a travel and tourism hospitality group in Philadelphia.
A popular writer and public speaker, Eric has provided expert insight on panels and speaking appearances throughout America's entrepreneurial community. He also hosts Square 2 Marketing's monthly workshop and webinar series to help business owners learn effective marketing strategies for their businesses. Eric is also a guest lecturer at several universities.
A graduate of George Washington University (BA) and Temple University (MBA), Eric and his family reside in Center City Philadelphia.
---
Brad Stevens
Brad Stevens is a lifetime entrepreneur and is currently the Founder & CEO of Outsource Access (OA), an offshore virtual services firm he has grown to 450 employees in just under 3 years with a target of 650 staff by the end of 2022. In 2021 OA was the only outsourcing company to receive the Inc Magazine Best in Business Award for firms making the biggest impact on their communities, industries, the environment, and society as a whole.
He also co-founded a service called 1-ON-1 Connections that connects member-based organizations together at scale including 20+ EO Chapters and Conferences globally.
Brad has advised business and civic leaders including Martin Luther King III and a documentary film was made about the give-back efforts of his firm. He was also selected to run a think-tank on Economic Growth at the United Nations headquarters with 200 entrepreneurs from 30 countries.
Brad is also a global keynote speaker for hundreds of organizations including universities, business groups and trade associations.
He is a published TEDx Speaker with over 230,000 views on the topic of How Personal Global Economies Are Redefining Entrepreneurship and created the podcast Automate & Delegate – What Should You NOT Be Doing
He has been featured in the Wall Street Business Network, INC Magazine 4 times and on the cover of Rising Stars of Simply Buckhead Magazine and Small Business Magazine
Brad is also a 10-year Member of the Global Entrepreneurs' Organization currently serving as the EO US East Regional Director for Member Engagement across 22 chapters and nearly 2000 members. He has also served as President for the EO Atlanta Chapter.
Brad graduated from the Wharton Business School with Finance and Marketing Concentrations and recently completed a Harvard Business School Executive Education Program on Inspiring Entrepreneurial Strategy. He lives in Atlanta, GA with his wife Cindy, a passionate educator for 13 years, and their two children that keep them quite busy, Ella and Brayden.
---
Bootsy Collins
Funkadelic Story Hour Speaker
Bootsy Collins is one of the all-time great funk and R&B bassists/singer/bandleaders/music producers; as well as being recognized by Rolling Stone Magazine as the number four bassist of all time. From 1969 to 1971, the group functioned as James Brown's backup band and was dubbed the J.B.'s. In 1972, Bootsy joined George Clinton's Parliament/Funkadelic. Collins and Clinton soon established a lifelong personal and musical friendship. He launched Bootsy's Rubber Band as a spinoff of P-Funk in 1976. Collins' inspired, clever progressions and patterns were a vital part of such records as "Get Up, I Feel Like Being a Sex Machine."
Bootsy Collins' influence on popular culture is inescapable. His SOUND and LOOK are literally stitched into the fabric of modern music, be it R&B, Funk, Rock, Hip-Hop or E.D.M. Snoop Dogg, Outkast, Flea, Dr. Dre, Rick James, Prince, Daft Punk, Primus, and Thundercat—to just name a few— are all Brother-Natures' disciples. Today, a whole new generation of music fans have embraced Bootsy's legacy via Childish Gambino' platinum hit "Red Bone", a loving homage to Collin's 70's smash "I'd Rather be with You." Bootsy's most recent collaboration with Bruno Mars, "An Evening with Silk Sonic" has taken listeners on a journey into a whole new stratosphere.
---
Patti (aka Pepperminte Patti) Collins
Funkadelic Story Hour Speaker
Patricia Ann Collins, aka Pepperminte Patti was born May 6, 1957, in the small town of New Richmond, Ohio. From a very young age she had a love for health and fitness and an interest in giving back to the community. She went on to attend Ohio University and the University of Cincinnati majoring in Physical Education and Health. Her passion for giving back became a reality when she stepped into the role of President of the Bootsy Collins Foundation! Her mission in everyday life has become supporting the arts, lifting the self-esteem of little girls and women, as well as educating the community regarding dental health awareness. The Bootsy Collins Foundation is a vehicle that is used to accomplish these goals.
She also supports organizations locally and nationally. She has shared her life story through motivational speaking which details trials, tribulations, and overall success conveying it one-on-one as well as in a large forum.
In terms of community involvement, she is a Ben-Gal Alumni from the 1984 squad and still actively participates as an Alumni of the organization. From the health impact perspective, Bootsy and Patti are chairpersons for the Todd Portune \Health Coalition promoting dental care awareness. Mrs. Collins works closely with The Center for Closing the Health Gap, is Co-Founder of Cincinnati USA Music Heritage Foundation, Co-Chair of the King Records Legacy Committee and is a Board Member of Madi's House.