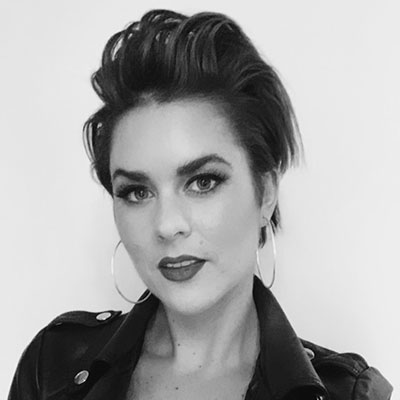 Allie Martin
Emcee
Allie Martin is a Cincinnati based multimedia producer and on-air personality that believes stories are the root of human experience.
She currently is WEBN's morning radio co-host on 'The KiddChris Show' and a frequent voice on 700WLW, also known as The Big One. Previously, Allie reported and hosted for WCPO's 'Cincy Lifestyle', along with directed events for Cincinnati CityBeat and video produced for Curiosity Advertising. In her down time, she produced and hosted 'When Pigs Fly', a podcast uncovering Cincinnati's entrepreneurship and startup culture.
Her unconventional path in media has pushed her to be a better storyteller, with the goal of giving others a voice.
Christina Harbridge
Keynote Speaker
Christina Harbridge, Founder and CEO of allegory, inc, is a behaviorist who trains and coaches individuals, teams and large groups to understand and leverage their own personal operating system when dealing with others who may or may not be rational.
Christina has been a member of the Entrepreneur's Organization for twenty years and once served as President for the San Francisco chapter.
Not only is Christina a business owner and past EO president, she has also co-authored software, built and sold a successful finance industry company, participated as a NASA test subject and collaborated to design and weld several large-scale metal sculptures.
She has served her community on the founding boards of The Bay Lights and Emerge America. Her story is covered in more detail in Simon Sinek's book "Start With Why," Mike Maddock's "Plan D," and Maria Ross' "Empathy Edge."
Along with being featured in several books, she is also the author of Swayed: How to Communicate for Impact, which reached number one on Amazon's 'Conflict' category list.
To learn more about Christina Harbridge and how brightly she shines her light on the world, visit her website: https://www.allegoryinc.com/team/christina-harbridge/
Momentous Storytelling
Storytelling That Builds Momentum
How do we move people from merely compliant to fully committed? Storytelling is a feeling that turns a moment into a movement. In this fully interactive keynote, you won't just sit and listen: We'll practice ways to authentically tap into a current much stronger than facts or feelings. There will be a twist to common thinking about personal narratives, and practical application to leading people.
"I laughed and I cried in Christina's 45-minute session. Everyone was riveted and wanted more." – Jennifer Trowbridge, Finance Chair, EO XCentric, Owner, Red Tree
"Everyone there would have spent four hours more with her and her talk." – Becky Feinberg Galvez, Revenue Chair, EO XCentric, Owner, Candor Threads