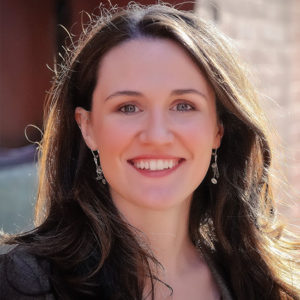 From homeless to Harvard… it's an unlikely turn of events. Liz Murray's life is a triumph over adversity, and a stunning example of the importance of Dreaming Big. Murray's upbringing in the Bronx, as the child of cocaine-addicted parents, was filled with severe challenges. There was never enough food in the house, the apartment was filthy and drugs were everywhere.
By age 16, Murray's mom had died and she was homeless—sleeping in parks, riding the subway all night, and living as a high school dropout on the streets of New York City. Amidst this pain, Murray always imagined her life could be much better than it was. "I knew had to change my circumstances for the better, and that no one could do that for me. But, I quickly found that I also could not do it alone. I had to take responsibility first, and then I had to find help—a community of caring people to help me get there."
Determined to change her life, Murray finished high school in just two years, and with the help of dedicated mentors and teachers, she was awarded a full scholarship to Harvard University—all while camping out in New York City parks and subway stations.
Her story sounds like a Hollywood movie—and it practically is. Lifetime Television produced a movie about Murray's life story entitled Homeless to Harvard, which was nominated for three "Emmy Awards". Murray is the recipient of the White House "Project's Role Model Award" and Oprah Winfrey's first-ever "Chutzpah Award". Her memoir, Breaking Night, landed on the New York Times best seller list within a week of its release and it quickly became an international bestseller published in twelve countries, in eight languages.
Murray graduated from Harvard University in 2009. She holds a Master's degree in the Psychology of Education from Columbia University. Today, she is the co-founder and Executive Director of a Bronx-based youth mentoring organization called "The Arthur Project," named in honor of her first mentor. Murray is passionate about partnering with youth so that they may realize their potential, as she is driven by the belief that "it's not success if it doesn't create opportunities for other people."
Murray is a passionate, highly in-demand national keynote speaker with over 15 years of experience inspiring audiences to overcome their personal obstacles while also strengthening their organizations and communities. She is a gifted storyteller specializing in topics such as: the power of perseverance, turning problems into opportunities, building strong organizations by putting people first, and, what it really takes to change a person's life.
When Liz is not speaking to groups, she adores being out and about in communities, engaging with people. Liz co-founded, The Arthur Project (named for her first mentor). At The Arthur Project, Liz partners with Bronx-based middle school youth to help them realize their dreams. Personally, this mission is very important to Liz as she gets to return to the community where she was raised to invest her time. These children have gifts they are just waiting to share with the world. All that's needed is a little extra support. Liz is happy to be a part of that.
Another one of Liz's passions is working with a new initiative called The Neighborhood Project (TNP). It functions kind of like a video book club hosted in living rooms across America, where neighbors sit down together around a screen to watch TNP original films and videos of compelling speeches that focus on universal topics, such as: love, forgiveness, acceptance, faith, etc. The Neighborhood Project (TNP) functions to put people in conversation with one another, helping neighbors know neighbors. The beauty in that project is watching walls fall down. When Liz was homeless, it was every day people, my own neighbors, who saved her life, by bringing her food, blankets and just by caring. That changed the shape of LIz's heart and helped her see the world as being filled with good people. With Liz's work at The Neighborhood Project, she gets to see that exact effect happening for others, heartfelt connections rippling across communities. It is beautiful. It makes the world a better, safer place, which is something we need right now more than ever.